From Bubble To Rubble!
Or your tax dollars at work!
days left until the Kingdome is paid off! Maybe I should put up a counter that keeps track of the 206 million dollars we still have to pay for the blasted thing!!! That would be about $38,000.00 per day for the next 15 years.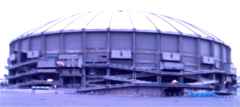 ---

SendMoreInfo.com This program is an oldie but goodie. The most reliable paid to read e-mail on the web today! They have recently upped the pay rate and are sending more info! I'm getting 10 to 15 paid emails a week on this one!
---
News Flash! On Sunday March 26, 2000 at 8:30 AM the Kingdome bit the dust!
---
Can't see the dome through the dust? See a simulation here!
It takes about 60 seconds to load.
Be patient, it's well worth the wait!
---
Jamie has got the most complete implosion link site that I have found Yet!
Check it out!
Phillyblast.com
---
This company documents implosions of all kinds. Lot's of nice pics and streaming video! They also cover implosiuons live!!!!Click here to go to Implosionworld.com
---
Shake the Shack!
KISW Rocks the Dome!
This one is kewl but it makes me dizzy!
---
Great minds think alike and so do the demented ones!
City Screens has their own version of the Kingdome implosion with the Phoenix rising from the ashes!
---
Business is booming at Controlled Demolition Incorporated
They now have 10 implosions for your viewing pleasure and are promising a new one every week!
(Some people will do anything to generate traffic)
Windows Media Player 6.4 is required but it's worth it!
---
Here is an astrological forcast prepared by Metafizzer especially for this event! Venus and Mars are alright tonight!
---
The International Society of Explosives Engineers These guys have all of the demolition information you will ever need.
---
Click on this link for a detailed article about what it takes to implode a domed stadium. This has never done been done before to any domed stadium!
---
The U-Dub put seismic recording devices in various locations for the big event! The Blast registered as a 2.1 Richter quake.
Shake Rattle & Roll?
---
King County Metro Kingdome Facts and Figures click here!
"Your tax dollars at work"
---
Paul Allens First and Goal construction/demolition information click this!
---
Click here for a time line web cam by Susan of the soft demolition process! Also many good links that I'm too lazy to link to right now!
---
Ivar has a live web cam here! Updated every 5 minutes!
He is going to post a video in MPEG format of the Kingdome demolition. Don't miss it!
---
Turner Stadium construction web cam
(They're building the new stadium.)
---
Dan has many "After the Implosion Cam" movies here!
---
From Dome To Dust
Here is the official Seattle Times collection of links and news articles about the demolition watch.
---
Free For All Implosion Links.
(has absolutely nothing to do with the Kingdome)
---
Make a little cash on the web by visiting my homepage
Take Me HOME!